fiber optic, instalasi fiber optic, optic fiber, fiber optik, optik fiber, fiber optic indonesia, fiber optik indonesia, kabel fiber optic, kabel fiber optik,kabel fo, fiber optic cable, fiber optik cable, fo cable, cable fiber optic, cable fiber optik, c
Fiber optik adalah sebuah kaca murni yang panjang dan tipis serta berdiameter sebesar rambut manusia.
Dan dalam pengunaannya beberapa fiber optik dijadikan satu dalam sebuah tempat yang dinamakan kabel optik dan digunakan untuk mengantarkan data digital yang berupa sinar dalam jarak yang sangat jauh.
Core adalah kaca tipis yang merupakan bagian inti dari fiber optik yang dimana pengiriman sinar dilakukan.
Cladding adalah materi yang mengelilingi inti yang berfungsi memantulkan sinar kembali ke dalam inti(core).
Buffer Coating adalah plastic pelapis yang melindungi fiber dari kerusakan.
Jenis Fiber Optik Berdasarkan mode yang dirambatkan:
1. Single-mode fibers
serat optik dengan core yang sangat kecil (berdiameter 0.00035 inch atau 9 micron). diameter mendekati panjang gelombang sehingga cahaya yang masuk ke dalamnya tidak terpantul-pantul ke dinding cladding.

2. Multi-mode fibers
serat optik dengan diameter core yang agak besar (berdiameter 0.0025 inch atau 62.5 micron) yang membuat laser di dalamnya akan terpantul-pantul di dinding cladding yang dapat menyebabkan berkurangnya bandwidth dari serat optik jenis ini.
Cara Kerja Fiber Optik...
Sinyal awal yang berbentuk sinyal listrik pada transmitter diubah oleh transducer elektrooptik (Dioda / Laser Dioda) menjadi gelombang cahaya yang kemudian ditransmisikan melalui kabel serat optik menuju penerima / receiver yang terletak pada ujung lainnya, pada penerima/reciever sinyal optik tadi diubah kembali menjadi sinyal listrik oleh transducer Optoelektronik (Photo Dioda / Avalanche Photo Dioda).
Akan tetapi dalam perjalanan sinyal optik dari transmitter menuju
reciever akan terjadi redaman cahaya sehingga jika jarak transmisinya jauh maka diperlukan repeater untuk memperkuat sinyal kembali.
Jenis-jenis Fiber Optic yg sering digunakan:
Indoor/Outdoor Tight Buffer

Indoor/Outdoor Breakout Cable

Aerial Cable/Self-Supporting

Hybrid & Composite Cable

Armored Cable

Low Smoke Zero Halogen (LSZH)
Kode warna
Selubung luar
Dalam standarisasinya kode warna dari selubung luar (jacket) kabel serat optik jenis Patch Cord adalah sebagai berikut:
Kuning

serat optik single-mode

Oren

serat optik multi-mode

Aqua

Optimal laser 10 giga 50/125 mikrometer serat optik multi-mode

Abu-Abu

Kode warna serat optik multi-mode, yang tidak digunakan lagi

Biru

Kadang masih digunakan dalam model perancangan
Konektor
Pada kabel serat optik, sambungan ujung terminal atau disebut juga konektor, biasanya memiliki tipe standar seperti FC, SC, ST, LC, atau MTRJ. Selain itu pada konektor tersebut biasanya menggunakan warna tertentu dengan maksud sebagai berikut:
Biru

yang paling umum digunkan untuk serat optik single-mode.

Hijau

sudah tidak digunakan lagi untuk serat optik multi-mode

Hitam - Abu-abu, Krem

serat optik multi-mode

Putih - Merah

Penggunaan khusus
Sumber ada di sini :)
Fiber Optik
Kabel Fiber Optic merupakan kabel jaringan yang pentranmissian datanya menggunakan cahaya. Kabel Fiber Optic banyak di gunakan pada jaringan WAN(Wide Area Network) untuk komunikasi suara dan data. Di bandingkan dengan jenis kabel lainnya, kabel ini lebih mahal. Namun, Fiber Optic memiliki jangkauan yang lebih jauh dari 550 meter sampai kilometer, tahan terhadap inferensi elektromagnetik dan dapat mengirim data pada kecepatan yang lebih tinggi dar jenis kable lainnya.
Fiber Optic
adalah saluran transmisi yang terbuat dari kaca atau plastik yang digunakan untuk mentransmisikan sinyal cahaya dari suatu tempat ke tempat lain. Cahaya yang ada di dalam serat optik sulit keluar karena indeks bias dari kaca lebih besar daripada indeks bias dari udara. Sumber cahaya yang digunakan adalah laser karena laser mempunyai spektrum yang sangat sempit. Kecepatan transmisi serat optik sangat tinggi sehingga sangat bagus digunakan sebagai saluran komunikasi.
Berdasarkan mode transmisi yang di gunakan Fiber Optic terdiri :
1. Step Index
2. Grade Index
3. Single Mode

Kabel Fiber Optic tidak membawa signal elektrik,seperti kabel lainnya yang menggunakan kabel tembaga. Sebagai gantinya, signal yang mewakili bit tersebut di ubah ke bentuk cahaya.
Kelebihan dari Fiber Optic di banding media kabel lainnya adalah dalam hal kecepatan transfer datanya yang sangat tinggi. Selain itu, Fiber Optic mampu mentransfer data pada jarak yang cukup jauh yaitu 2500 meter lebih tanpa bantuan perangkat Repeater, kabel ini tahan terhadap panas, ukuran kecil dan ringan. Kelebihan lainnya yaitu tahan terhadap interfensi dari frekuensi - frekuensi liar yang ada di sepanjang jalur instalasi.

Kelemahan Fiber Optic ada pada tingginya tingkat kesulitan proses instalasinya dan mahalnya harga kabel Fiber Optic ini, Mengingat media ini menggunakan gelombang cahaya untuk mentransmissikan data maka Fiber Optic tidak dapat di install dalam jalur yng berbelok secara tajam atau menyudut. Jika terpaksa harus berbelok, maka harus di buat belokan yang melengkung.
Spesifikasi Pemakaian Fiber Optik :
* Indoor Cable
- Menggunakan LED sebagai sumber daya cahaya.
- Attenuetion 3,5 dB/km (kehilangan 3,5 dB perkilometer signal).
- Panjang gelombang cahaya yang di gunakan 850 nM (nano meter).
- Menggunakan Multimode, dapat melewatkan berbagai cahaya.

* Outdoor Cable :
- Menggunakan Laser sebagai sumber cahaya.
- Attenuetion 1 dB/Km.
- Panjang gelombang 1170 nM (nano meter).
- Monomode (single mode).

* ii. Open Wire :
a). Biasa di gunakan untuk distribusi listrik.
b). Tidak punya perlindungan terhadap gangguan noise, pada komunikasi data.
c). Hanya dapat di gunakan untuk komunikasi data bila jaraknya kurang dari 20 ft.(6,1 m).

Struktur Dasar Fiber Optik
Kabel fiber di buat kaca yang di bungkus oleh penebat. Fiber optik menggunakan cahaya untuk menghantar sugnal, berbeda dengan kabel tembaga yang menggunakan signal elektronik. Informasi di transmisikan menggunakan gelombang cahaya dengan cara mengkonversi signal listrik menjadi gelombang cahaya. Transmitter yang banyak di gunakan adalah LED atau Laser. Oleh karena itu fiber dapat menahan gangguan elektromagnet. Kabel fiber Optik sesuai di gunakan di kawasan yang banyak gangguan elektromagnet dan jarak yang jauh.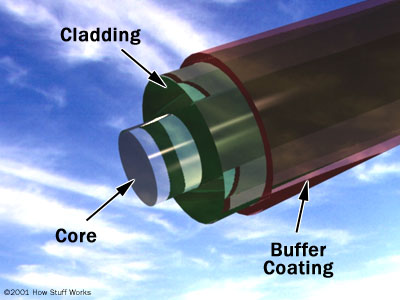 Gambar konstruksi dari kabel serat optik

Pada gambar di atas merupakan kontruksi dari kabel serat optik yang memiliki bagian pusat kebel terdapat inti kaca dan mempunyai ketebalan 8-10 mikron. Tempat ini merupakan tempat cahaya akan berpropagasi. Ini di bungkus kaca yang mempunyai indeks refraksiyang lebih rendah, hal ini untuk menjaga agar cahaya tetap menjalar pada inti. Kemudian terdapat plastik tipis yang berfungsi sebagai pelindung bungkus kaca. Secara umum serat di gabungkan dalam suatu bundel dan di lindungi pembungkus, di mana ada juga setiap pembungkus yang bisa berisikan banyak serat optik.
Sarung dan Pembungkus di antara masing masing kabel

Secara garis besar fiber optik memiliki 3 struktur dasar, yaitu :
a. Core (Inti)
Berfungsi untuk menentukan cahaya perambat dari satu ujung ke ujung yang lain. Terbuat dari bahan kuarsa dengan kualitas yang sangat tinggi, merupakan bagian utama dari fiber optic karena terjadi permabatan cahaya di sini. Diameternya adalah 10-50(simbol(mu)m), ukuran core sangat mempengaruhi fiber optik.

b. Cladding (Lapisan)
Berfungsi sebagai cermin, yakni memantulkan cahaya agar dapat merambat ke ujung lainnya. Terbuat dari gelas dengan indexs bias lebih kecil dari core, merupakan selubung dari core, sangat mempengaruhi sudut kritis.

c. Coating (jaket)
Berfungsi sebagai pelindung mekanis dan tepat kode warna. Terbuat dari bahan plastic, berfungsi melindungi serat optic dari kerusakan.

Di dalam melakukan pen-signalan terdapat 2 jenis sumber cahaya yang dapat di gunakan yaitu : LED (Light Emiting Diode)dan laser semi konduktor. Adapun perbedaannya adalah sbb :
* LED :
Laju Data : Rendah
Module : Multimode
Jarak : Masak Pakai
Sensitifitas Suhu : Minor
Biaya : Rendah

* Semikonduktor Laser :
Laju Data : Tinggi
Module : Multimode atau Single Mode
Jarak : Jauh
Sensitifitas Suhu : Substansi
Biaya : Mahal
From Wikipedia, the free encyclopedia
A variety of other image transmission applications soon followed.
Common uses for fiber optic sensors includes advanced intrusion detection security systems. The light is transmitted along a fiber optic sensor cable placed on a fence, pipeline, or communication cabling, and the returned signal is monitored and analysed for disturbances. This return signal is digitally processed to detect disturbances and trip an alarm if an intrusion has occurred.
In addition to light scattering, attenuation or signal loss can also occur due to selective absorption of specific wavelengths, in a manner similar to that responsible for the appearance of color. Primary material considerations include both electrons and molecules as follows:
1) At the electronic level, it depends on whether the electron orbitals are spaced (or "quantized") such that they can absorb a quantum of light (or photon) of a specific wavelength or frequency in the ultraviolet (UV) or visible ranges. This is what gives rise to color.
2) At the atomic or molecular level, it depends on the frequencies of atomic or molecular vibrations or chemical bonds, how close-packed its atoms or molecules are, and whether or not the atoms or molecules exhibit long-range order. These factors will determine the capacity of the material transmitting longer wavelengths in the infrared (IR), far IR, radio and microwave ranges.
Thus, multi-phonon absorption occurs when two or more phonons simultaneously interact to produce electric dipole moments with which the incident radiation may couple. These dipoles can absorb energy from the incident radiation, reaching a maximum coupling with the radiation when the frequency is equal to the fundamental vibrational mode of the molecular dipole (e.g. Si-O bond) in the far-infrared, or one of its harmonics.
The selective absorption of infrared (IR) light by a particular material occurs because the selected frequency of the light wave matches the frequency (or an integer multiple of the frequency) at which the particles of that material vibrate. Since different atoms and molecules have different natural frequencies of vibration, they will selectively absorb different frequencies (or portions of the spectrum) of infrared (IR) light.
Reflection and transmission of light waves occur because the frequencies of the light waves do not match the natural resonant frequencies of vibration of the objects. When IR light of these frequencies strikes an object, the energy is either reflected or transmitted.
Particularly for active fibers, pure silica is usually not a very suitable host glass, because it exhibits a low solubility for rare earth ions. This can lead to quenching effects due to clustering of dopant ions. Aluminosilicates are much more effective in this respect.
Silica fiber also exhibits a high threshold for optical damage. This property ensures a low tendency for laser-induced breakdown. This is important for fiber amplifiers when utilized for the amplification of short pulses.
The light is "guided" down the core of the fiber by an optical "cladding" with a lower refractive index that traps light in the core through "total internal reflection."
The cladding is coated by a "buffer" that protects it from moisture and physical damage. The buffer is what gets stripped off the fiber for termination or splicing. These coatings are UV-cured urethane acrylate composite materials applied to the outside of the fiber during the drawing process. The coatings protect the very delicate strands of glass fiber—about the size of a human hair—and allow it to survive the rigors of manufacturing, proof testing, cabling and installation.
Today's glass optical fiber draw processes employ a dual-layer coating approach. An inner primary coating is designed to act as a shock absorber to minimize attenuation caused by microbending. An outer secondary coating protects the primary coating against mechanical damage and acts as a barrier to lateral forces. Sometimes a metallic armor layer is added to provide extra protection.
Fiber optic coatings are applied in concentric layers to prevent damage to the fiber during the drawing application and to maximize fiber strength and microbend resistance. Unevenly coated fiber will experience non-uniform forces when the coating expands or contracts, and is susceptible to greater signal attenuation. Under proper drawing and coating processes, the coatings are concentric around the fiber, continuous over the length of the application and have constant thickness.
Fiber optic coatings protect the glass fibers from scratches that could lead to strength degradation. The combination of moisture and scratches accelerates the aging and deterioration of fiber strength. When fiber is subjected to low stresses over a long period, fiber fatigue can occur. Over time or in extreme conditions, these factors combine to cause microscopic flaws in the glass fiber to propagate, which can ultimately result in fiber failure.
Three key characteristics of fiber optic waveguides can be affected by environmental conditions: strength, attenuation and resistance to losses caused by microbending. External fiber optic coatings protect glass optical fiber from environmental conditions that can affect the fiber's performance and long-term durability. On the inside, coatings ensure the reliability of the signal being carried and help minimize attenuation due to microbending.
Another important feature of cable is cable's ability to withstand horizontally applied force. It is technically called max tensile strength defining how much force can applied to the cable during the installation period.
Fiber: Truth or Fiction?
Fiber-optic cabling has become big business. In recent years, fiber's advantages over copper Cat-X and coaxial wiring have become clearer to a larger number of AV systems integrators. Still, misconceptions persist and it can be hard for integrators, installers, and end users to separate hype from reality. We gave it a shot.
Fiber-optic cabling has become big business. The gross value of fiber cable used in the U.S. this year has reached $1.9 billion, according to market research publisher Supplier Relations' 2009 sector analysis report. That's up 30 percent from a separate U.S. Census Bureau report just a few years ago. This shouldn't come as a surprise: In recent years, fiber cabling's advantages over copper category-X and coaxial wiring, under the right circumstances, increasingly have become more clear to a larger number of systems integrators. Fiber offers the ability to carry much more information and deliver it with greater fidelity than either twisted pair wire or coaxial cable. Fiber's immunity to all kinds of EMP and RF interference adds a measure of reliability to applications. And fiber, because it's composed of glass strands, is highly resistant to corrosion.
Moreover, fiber isn't the Mercedes-Benz of structured wiring any more. Fiber-optic cabling costs have come down significantly in recent years, an effect that's been enhanced by the rise in copper prices in the surging commodities markets. Fiber today costs around 25 cents or less per meter, virtually on-par with copper–22 cents per meter at press time.
Finally, there are other, sometimes less apparent, benefits of fiber. Fire code regulations often require the use of plenum-rated cable in certain AV installations, which can add as much as a 100-percent premium over the cost of standard coax and Cat-5 cables. On the other hand, plenum-rated fiber cabling carries only a 10-percent premium (often less) over standard PVC cable. Sure, copper may still cost less than fiber linearly, but when measured by capacity, fiber comes out on top.
So why doesn't everyone run fiber? Sure, it's not always the right solution for the job, although that hurdle is becoming lower and lower. The fact is, misconceptions about fiber cabling still exist among systems integrators. And sometimes, those who are educating the industry are at odds with each other. Hey, in some ways we're all still learning here. So PRO AV called around to assess the truthfulness of what integrators keep hearing in the market. Truth or fiction:
"Fiber requires special skills to work with and troubleshoot"
The transition from copper to fiber is in some ways a fairly small jump as they're both cables that channel a signal. But in other ways, the differences are significant–coax and Cat-5/6 channel electricity, while fiber channels light.
"Fiber is cut-and-dried; it either works or it doesn't. It's much less ambiguous than copper from a troubleshooting point of view," says Derek Miranda, director of marketing for manufacturer Communications Specialties Inc. (CSI). Basically, anything that lets light seep out of the cable can diminish the power level of the signal, which is measured in decibels (dB). An optical power meter, which measures the strength of the signal, can help troubleshoot most fiber installations. Since fiber's distance capabilities are rated in kilometers (fiber specifications in general tend to be expressed in metric rather than the imperial values used for copper and Cat-5/6, another common source of confusion), the much shorter runs typical for most AV applications mean that signal strength is rarely a problem.
Another concept unique to fiber is the loss budget, which determines the distance a wire run can go before it requires a boost from an optical distribution amplifier. Loss budgets in the 20-percent to 30-percent range are not unusual. (Download a Pro AV Cheat Sheet on measuring loss here .)
What copper wiring requires that fiber does not are equalization and de-skewing, in order to correct the synchronization of signals arriving at a destination, such as a video display. "There are no de-skewing [devices] or equalizer trimmers the way you find on copper products," Miranda explains. "Fiber products are plug-and-play. There's no configuration to be done."
"Fiber cabling is difficult to connect and terminate"
Many people have reservations about "connectorizing" fiber-optic cable based on problems they have heard concerning the "grinding and polishing" of glass. The reality is that this now takes less than a minute and is done within a simple tool. Once one is completely familiar with the process (which takes 30 minutes to an hour to learn), the longest time interval involved in the finishing process is waiting for epoxy to cure. "It is at least as easy to do as terminating a BNC on coax, and some of those who have done it will say it is even easier," Miranda says.
Several connector manufacturers offer "quick-crimp" optical connectors that are installed with various mechanical clamp arrangements and hot-melt or instant-bond adhesives. Some of these connectors, such as the Corning Unicam Connector System, even come with a pre-polished length of optical fiber in the tip, thereby eliminating the finishing step altogether. The main difference between connector systems is in the mechanical way that the connectors mate to each other. (Download a PRO AV Cheat Sheet on terminating fiber here .)
"Fiber can be dangerous to work with"
Because the only signal in the fiber cable is light, there is no possibility of a spark from a broken fiber, eliminating the risk of fire and electrical shock hazards for integrators and end users. However, looking directly into the business end of an illuminated fiber cable can cause permanent damage to the rod and cone photo receptors in the eye's retina, warns Chris Mitchell, general manager of TexelSPL, the structured cabling business division of integrator AVI-SPL.
Furthermore, Mitchell adds, users need to remember that communications fiber is made of Acrylite-coated glass. When it's broken in the process of terminating or cleaving, microscopic glass shards can result that need to be handled with care. "If you use compressed air to clean an area that has these shards, you run the risk of them getting into your eye, something that could require surgery to fix," Mitchell says, referring to a personal experience that happened to him 25 years ago, when fiber was still a fairly exotic cable.
"Multimode is the same as single-mode fiber, but with more capacity"
Intuitively it seems correct, but it isn't. Multimode actually has less capacity than single-mode fiber. Single-mode fiber is a single strand of glass fiber with a diameter of 8.3 to 10 microns that has one mode of transmission, which typically propagates at 1310 or 1550 nanometers (nm). It carries higher bandwidth than multimode fiber, but requires a light source with a narrow spectral width.
Multimode fiber also uses a single strand of glass fiber, but it has a different composition that scatters light into multiple modes (i.e., beams of light). This limits multimode fiber's bandwidth and distance. Jim Jachetta, senior vice president at MultiDyne Video & Fiber Systems, suggests the following analogy: "Multimode is like firing a shotgun down a conduit–you get a lot of pellets into it, but they tend to bounce off the walls so they don't go very far and aren't completely accurate. Single-mode fiber is like firing a rifle down the conduit–it's just a single bullet but it will go straighter, faster, and farther than the pellets."
Single-mode fiber offers a higher transmission rate and up to 50 times more distance than multimode. Multimode fiber can provide high bandwidth at high speeds (up to 4Gbps) but only over short distances. And in cable runs greater than 1,500 feet, multiple modes (beams) of light can cause signal distortion at the receiving end, resulting in an unclear and incomplete data transmission.
But even this distinction can be somewhat blurry, giving rise to yet another misconception about fiber, namely that multimode fiber is for multiple signals and single-mode fiber is for a single signal.
Both multimode and single-mode fiber can transport multiple signals if they are time-division multiplexed together into one wavelength. In addition, multiple wavelengths can be optically multiplexed onto one fiber using wave-division multiplexing (WDM) and coarse wave-division multiplexing (CWDM). This WDM technique is used in telecom and IT applications for single-mode fiber but has been uncommon in the AV space until now. Jachetta says up to 18 wavelength channels on single-mode and multimode fiber is becoming more common in pro AV applications.
"The latest advancements in wave-division multiplexing now offer CWDM solutions over multimode fiber," he says. "We have completed several projects using CWDM technology over multimode fiber."